Craig's Mill Trail
Chesterfield, SC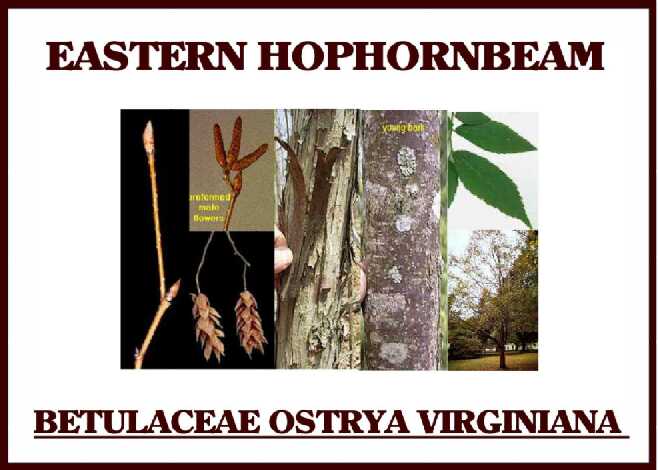 Leaf: Alternate, simple, pinnately veined, oval in shape with a doubly serrate margin. Pubescent in the axils of veins and on the petiole.

Flower: Male flowers are catkins, 1/2 to 1 1/2 inches long, present throughtout the winter. Female flowers are slender, light green catkins, 1/4 inch long, appearing in April.

Fruit: Very distinctive, resembling hops. More specifically, a 1/4 inch nutlet is enclosed in a dried, leafy, inflated involucre. Serveral involucres hang from one stem, 1 1/2 to 2 1/2 inches long. Maturing after August, persistant through winter.

Twig: Slender, reddish-brown, smooth, and may be slightly pubescent. Male catkins present on the end of the branch. Buds are small, conical, and covered with red-brown, finely grooved scales.

Bark: Has a shreddy appearance, broken into small plates or scales that are papery thin, and may be broken off with a brush of the hand.

Form: A small tree that developes a round crown of fine branches.


Copyright (c) 2000, 2001 Pee Dee Resource Conservation and Development Council.
This page was last updated on August 31, 2001.

_______________________________________________