Craig's Mill Trail
Chesterfield, SC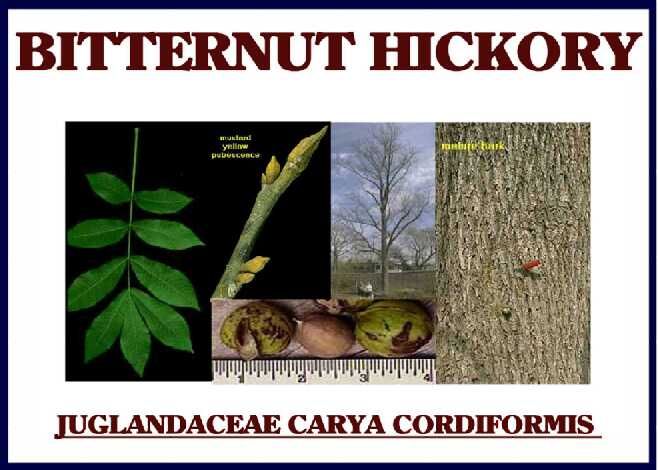 Leaf: Alternate, pinnately compound with 7 to 11 leaflets, 7 to 10 inches long. Leaflets are lanceolate and serrate. The rachis is slender and pubescent.

Flower: Male flowers are drooping catkins, with 3 hanging from one stalk, 3 to 4 inches long. Female flowers are short, 4-angled on a terminal spike. Flowers appear April to May.

Fruit: Nearly globose but slightly flattened, 1 inch long, partially dehiscent from the middle to the sharp-pointed tip. The husk is thin and 4-winged above the middle, often dusty yellow looking. Maturing in September to October.

Twig: Moderately stout to slender (when compared to other hickories). Leaf scars are 3-lobed. The terminal bud is valvate, 4-angled and sulfur-yellow in color.

Bark: Smooth when young, much later with shallow furrows and interlacing ridges. The bark appears to be thin, tight and feels quite hard.

Form: A medium-sized tree with an open, rounded top.


Copyright (c) 2000, 2001 Pee Dee Resource Conservation and Development Council.
This page was last updated on August 31, 2001.

_______________________________________________